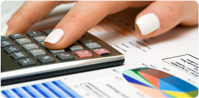 FinCap products are developed with robust and scalable technology to efficiently manage the process, improve usability and productivity, and provide accuracy in results in structured finance space.
FinPricer - A Comprehensive Technology Solution for Pricing and Risk Analysis
FinData™ connects robust current and historic datasets of RMBS performance data with a technologically advanced platform that allows investors to manage their RMBS risk more efficiently and effectively.

During each monthly remittance cycle, FinData™ clients have an advantage over other market participants as all new bond performance datasets are updated and available to clients by the 1st day of each month
Deal Monitoring FinData™ enables you to monitor the performance on over 98% of the RMBS active deal universe
Deal Performance Monthly summaries and rankings on important remittance metrics that allow you to compare RMBS deals across various attributes of your portfolio, within collateral types, shelves or any other market segmentation.
Area Analysis FinData™ gives you the capability to view the performance of any deal by any loan characteristic found on the collateral file.
Deal Structures FinData™ provides you with monthly cusip level payment/factor details as well as an aggregate table that provides the collateral to cusip mappings.
Performance History For any trending or comparison analysis, FinData™ gives access to up to 10 years of performance history at the deal & loan level including items such as delinquency stats, loss amounts, loss severities, loan balances and tranche factors.
Loan Level Review Users have access to loan level views for all active and inactive loans within every deal.
Monthly Data Update Cycle All monthly deal & loan level remittance information is processed and available to clients by the 1st day of each month.
"FinCap Solutions brings a complete end-to-end solution for your deal and Portfolio analysis"
| | | |
| --- | --- | --- |
| | RMBS/ABS Deals | |

| | | |
| --- | --- | --- |
| | Capital Structures | |

| | | |
| --- | --- | --- |
| | Collateral Segmentations | |

| | | |
| --- | --- | --- |
| | Performance Metrics | |
Tranche Factors
Cusip Reference Table
Pool / Cusip mapping

A Prime
Alt A
BC
Home Equity
S&D
Option ARM

Deal & Loan Level
Prepayment History
Delinquency History
Loss History
Deal Rankings
Analytics Built for Traders by Traders
Dynamically test and develop your trading strategies without disclosing your ideas to your competition
Analyze underlying deal / portfolio loan data in real-time to make the best buy/sell trading decisions
Reviewing the performance of your portfolios under multiple scenarios, monitor trends or customize reports for trading, research and risk
Focus on trading strategies without the need to focus on technology implementation, back-office backlog and need to upgrade systems and customize your analysis without the need to write or develop new software, SQL statements and other tools
High-performance analytics allows for advanced modeling & reporting of underlying deal collateral with over 100 customizable collateral attributes
Maintains one of the most comprehensive structured finance data platforms. Each month, loan-level data is subjected to a rigorous validation process by a team of data specialist to ensure the continued integrity of the data set
Flexible By Design
Ability to do ad-hoc analysis for research, trading, risk and compliance with a user friendly interface designed for maximum flexibility
Ability to research monthly loan performance and loss metrics by collateral type, vintage, lien type services, state, LTV and a hundred more attributes
Ability to analyze the performance of loans that underlie the bonds in your portfolio
Single source for all your RMBS data needs with a tightly coupled front and back end that is used by hedge funds, advisory firms and rating agencies
Our tools are intuitive, with a powerful flexible interface that can help you monitor your RMBS deals and assist you in designing new trading strategies
FinData™ Powered by MBSData™ can be integrated to FinPricer™ for scalar / vector prepayment, default and loss rates, price / yield, sensitivity analysis, stress testing and other advanced analytics
Customizable
Our team of experienced financial engineers is available to build custom macros and reports
Flexible, robust, comprehensive and customizable interface backed by a team of highly specialized analyst with experience in trading, portfolio management, data, system development and business analysis
As a client, you can contact our analysts, schedule face-to face meetings and participate in client-only events
We can assist with asset valuation, stress testing, portfolio risk analysis, integration of credit models and implementation and training